Born April 20th. 1951 in Copenhagen, Denmark
Composer, Guitarist, Bassist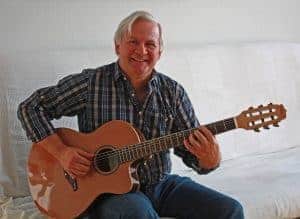 At the age of 9 Jan started playing music. His first instrument was the Eb cornet. He played in a music corps/ marching band/ concert orchestra ( Holbaek Garden ) where he received basic music training. He continued playing the cornet until he left the music corps in 1968. At the age of 13 he was given a guitar as a present during a tour with the music corps of Sweden. The guitar immediately caught his interest. He started composing and playing the guitar- and has kept doing that ever since. In his twenties ( mid seventies ) he wrote 2 songs ( Skoenhed and Nedturssangen ) that are included in the songbook made by Thy-Lejren ( a place like Christiania in the north of Denmark ).
In the sixties Jan played with different bands in Denmark amongst them : Burning Desire, Bjarne Gertz's Trio and different theater groups. At the same time he attended Roskilde University Center (RUC ) where he studied social/society science ( SAM ).
In 1979 he moved to the USA where he settled down on Maui, Hawai'i. He stayed there 23 years playing with a variety of bands – groups and orchestras. He recorded 4 albums with his own compositions I addition to playing on albums by other artists. He was also a much sought after bass-player by local ensembles and bands. Amongst others local Hawai'ian trios and Hula Shows. He was Rudy Commissiong's ( The King of Calypso from Trinidad and Bermuda ) bassist for 4 years.
In 2003 he left Maui for Nagoya, Japan where he for a year and a half played his own music with a local band in addition to jamming with local jazz musicians in various clubs.
From 2004 he lived in Honolulu, Hawai'I where he played with 2 local bands. One of these : "Nite Life" played Reggae/Hip-Hop/Rock/Blues which was what worked on the local night club scene.
In 2007 Jan returned to Denmark. He has since been playing with local bands and recorded his  music in local studios in the area of Holbaek. Amongst others "Minthouse Studios" in Loevenborg with Carsten Mortensen ( Mintman ). He also went on tour of Ireland with Bo Callaby and Antonio Vichy playing at The Fringe Festival in Galway and in Dublin.
Jan's latest recordings are 5 original jazz pieces recorded in 2017 with his recording band consisting of : Norbert Susemihl, trumpet/flugelhorn  ◊  Jan Overgaard, keys  ◊  Torben Haug, drums  ◊  Morten Steengaard, bass  ◊ Antonio Vichy, Percussion  ◊  Jannie Nielsen, flute  ◊  Jan.
Jan is at present living in Thy, in the north of Jutland, where he is playing with local bands and still composing new materiel.